Howard and Montgomery County Attorneys Smoothly Handling Mediation Cases
Helping Columbia, Fulton, Bethesda and Rockville clients mediate their divorce and family law matters

The divorce process is not automatically a contentious one; sometimes both members of the relationship are already clear on every single detail of their decoupling. At the end of many marriages, however, the situation is somewhere between a perfect agreement and being unable to communicate at all. In these cases, mediation can be a sufficient solution to come to a compromise without having to go to court.
At McCabe Russell, PA, our Howard and Montgomery County divorce mediation lawyers are experienced with divorce mediation process in Maryland. We are prepared to help you determine if mediation is the right choice for you, and then we can guide you through the process. Our goal is to provide you with the best possible outcome for your unique situation. We maintain multiple offices in Fulton, Columbia, Bethesda and Rockville, allowing our clients easy access to our attorneys and services.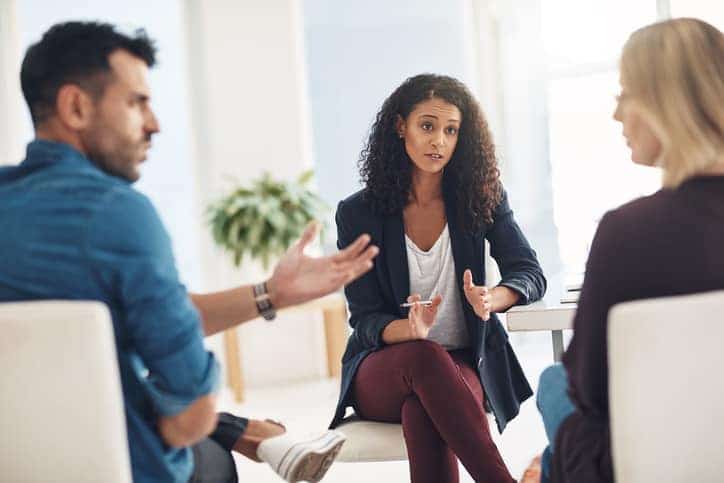 What is mediation?
Mediation is a problem-solving process in which the participants themselves, while working with a neutral mediator, craft the resolution. The information disclosed during mediation is private and cannot be used against either party in court if the conflict is not resolved during mediation. It represents a middle road between a potentially antagonistic court case, a situation in which the needs of one spouse or co-parent are often privileged over the other, and a collaborative divorce, in which both members of the relationship are already in perfect agreement about all elements of the dissolution of the marriage.
Mediation also helps couples who are almost entirely in agreement about how to proceed, but have a few lingering questions or concerns. For example, the couple who knows exactly how to handle the division of their assets, and has worked out their custody arrangement, but simply cannot agree on who gets to keep the family dog – a problem that has become more prevalent over the last few years, you may be surprised to learn – could benefit from working with a mediator. So can the couple which cannot see eye to eye on alimony, or custody, or asset division – or a combination of any or all things which make up a life.
Mediators: here to serve
A mediator is a trained neutral party, hired to assist you to resolve the problems at hand. The mediator is not your attorney. The mediator serves, the interests of mutual resolution more than the interests of either party individually. A divorce mediator in Maryland cannot represent either party specifically because the process is built on the understanding that the mediator is neutral, not an advocate for either participant.
Your mediator will ask questions to make sure all the necessary information is understood. The mediator will work to keep the participants focused on their goals and working toward solutions while assisting the participants in identifying the information they need to fully reach their resolutions. A skilled mediator will also help participants generate options for resolution, provide legal information (but not advice) and draft agreements as desired by the participants.
While mediation is led by a neutral party, it is still important for both members of the divorcing couple to be represented by a Howard and Montgomery County divorce mediation attorney who can explain the mediation process and ensure that your best interests are being considered in the mediator's ultimate decision.
Is mediation right for my situation?
Determining whether to choose mediation instead of divorce court is an individual and personal decision. Even the most pacific relationship can become rocky during dissolution, particularly when finances or children are involved. If you are determined to find a solution to meet the needs of all those involved, mediation is perhaps the best option to allow the involved parties, spouses or co-parents to craft the most personalized agreement to suit their demands.
Mediated agreements are frequently more detailed and more enduring than court-ordered solutions. Divorce mediation is a good option when:
You need assistance communicating.
You need help establishing your goals.
You need creative solutions for your family.
You want solutions that best meet each participant's respective goals.
We are going to trial; why should I care about mediation?
If you or your spouse is dead-set on going to trial, or if you tried mediation and it was not helpful or successful, you can still benefit by working with an attorney who is a trained mediator. Because mediation is, at its heart, an alternative dispute resolution process, mediators are, by necessity, skilled negotiators. They are detail-oriented and focused on reaching resolution. They are able to anticipate problems and address them before they happen, and to anticipate the moves each party will make.
In short, mediators know how the person on the other side of the aisle is likely to respond before the trial even begins. This give us an edge in litigation, and allows us to create innovative, personalized strategies designed with your best interests in mind. We are exceptionally adept at identifying weaknesses, which ensures that our clients' cases are strong from the start, and that you will not be taken advantage of in trial.
Types of Cases We Handle
Our attorneys handle a variety of divorce cases, including:
Contact our Howard and Montgomery divorce attorneys to learn more about mediation
Mediation is not exclusive to any particular part of the separation and divorce process. It can be useful to resolve all of the issues or just a few difficult ones that are preventing overall resolution. The Howard and Montgomery County divorce mediation attorneys at McCabe Russell, PA are uniquely qualified to help you through the mediation process. Please call 443-812-1435 or fill out our contact form to schedule an appointment at one of our offices located in Fulton, Columbia, Bethesda or Rockville.
Related Articles