Heather McCabe Speaks with The Daily Record About Dobbs and the Future of LGBTQ+ Rights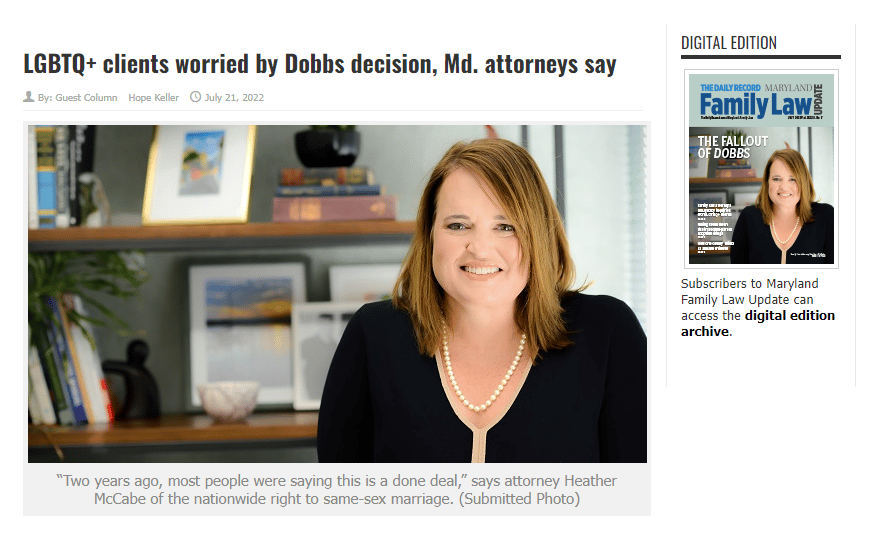 When the Supreme Court of the United States (SCOTUS) undid 50 years of precedent by overturning Roe v. Wade, advocates scrambled to find ways to protect reproductive rights. Admittedly – and rightfully – most of the conversation focused on abortion. After all, the opinion by Justice Alito said the ruling only applied to abortion.
But that may not be entirely true. First, because the SCOTUS ruling overturned the right to privacy in general in Dobbs vs. Jackson Women's Health Organization. Second, because Justice Thomas specifically name-dropped Lawrence, Obergefell, and Griswold. Third, because over the past few months, we have seen multiple news reports about states across the country attempting to pass laws that severely restrict, if not outright repeal, the rights of LGBTQ+ people.
Firm co-founder Heather McCabe recently sat down to speak with The Daily Record about these concerns. Specifically, she spoke to the number of calls our firm has received from couples who "want their legal documents nailed down ASAP in case the court does take a case that could overturn Obergefell."
We invite you to read the interview in The Daily Record here.
Protecting our LGBTQ+ clients' marriages and families
It may seem a little "odd" that divorce attorneys are offering advice on saving your marriage, but after all – who would know better than a divorce lawyer, right? We know exactly what documents can help protect you because we draft so many of them for clients. And as many members of our firm identify as LGBTQ+, this issue is personal to us on many levels.
So rather than offer some tips about how to help yourself in a divorce, today we want to talk about how to protect your marriage and your family in case Obergefell falls. Here are a few issues that you should address:
Getting married. If you have been considering marriage but have not yet gotten married, you may want to rethink your timeline. Married couples have rights that other couples do not, including the right to make medical decisions for their spouses, and to file taxes together.

If you both want to remain legally unmarried, you might consider a domestic partnership. Note that not all states will recognize a domestic partnership, however, which may cause problems if you choose to move later.

Second-parent adoption. Maryland courts both recognize and award de facto parent status for KGBTQ+ couples, but a second-parent adoption adds another layer of protection. We can help with this.
Prenuptial agreements. Another way to protect your assets is by creating a prenuptial or post-nuptial agreement (if you are already married) which can outline how your assets should be divided. You can create trusts, a business succession plan, an outline for inheritance, and more.
Updating your will. If you do not have a will, you cannot dictate where your assets go after your death. That means the state may take them, or they will be divided the way the law says they must. We can recommend an estate attorney to ensure that this documentation is up to date.
Retirement benefits. If you are a government worker and part of a civil union, not a marriage, you could be denied your fair share of benefits. Talk to your accountant about this issue.
The single most important gift you can give yourself right now is a legal consultation with an attorney who has represented LGBTQ+ folks in an array of family law matters. Trust us when we say that this is a complex area of law (and a relatively new one, given how recently Obergefell was decided). You do not want to "wing it" when it comes to your spouse and your children.
The family law attorneys at McCabe Russell, P.A. have worked with LGBTQ+ clients throughout Maryland. We understand what you're facing, and we want to help you protect the life and family you have. Find out how we can help by scheduling a consultation today. Call 443-917-3347 or reach out to us through our contact form today. We maintain offices in Bethesda, Fulton, Rockville, and Columbia.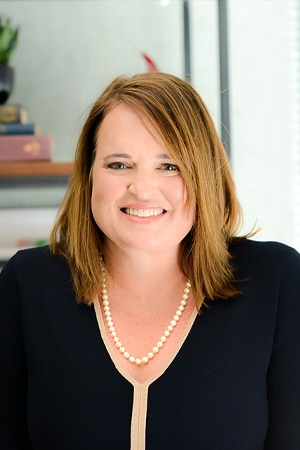 Heather is the firm's managing partner and divorce law guru. Heather knows all the ins and outs of divorce in Maryland and DC, and she knows exactly what to do to put her clients in a position to accomplish their goals.
Find out more about Heather McCabe