Parenting & Adoption for Grandparents in Maryland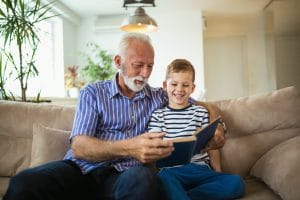 Family comes in many forms. Increasingly, parenting duties are being shouldered by grandparents – sometimes alone, and sometimes in tandem with birth parents, aunts and uncles, and other family members. All children need love and support, and grandparents have a wealth of that love and support to give. That is why it is important to avoid potential legal pitfalls when you are raising your children's children.
Only legal guardians can make decisions about healthcare and education
If you are not the legal guardian of your grandchildren, then you cannot legally make important decisions regarding their welfare. For example, you may be unable to secure health insurance for them or register them for certain benefits programs. You may be unable to enroll them in school or ensure they receive their appropriate vaccines. Legally, you could be denied access their health records. If something happens to the child, you may be denied access to a hospital visit, as well.
The silver lining to this, however, is that there are ways for grandparents to legally protect their grandchildren:
Understanding de facto parentage
In Conover v. Conover, the Maryland Court of Appeals held that certain third parties can be recognized as parents "in fact" because they fulfill the role of parents. De facto parents are people who live in the same house, perform traditional parenting roles (like helping clothe, feed, and educate the children), and have established a bond with the children, all under the consent (implied or direct) of the parents.
If, for example, your grandchildren reside primarily in your home, and you are the one who lays out there clothes, cooks their meals, helps with their homework, ensures that they take their allergy medications, and reads to them at night, then you are a de facto parent. As such, you have a strong claim for custody and visitation. If you are granted legal custody, you can make important decisions on behalf of your children that serve their best interests.
Seeking guardianship of your grandchildren
If you cannot adopt your grandchildren, you can petition to become their guardian. A legal guardian can make decisions about healthcare, education, and/or finances. As a grandparent, you can be named a Guardian of the Person, a Guardian of the Property, or a Guardian of the Person and Property. In some cases, a court may appoint two guardians, in which case the rights you have could be limited.
Further, it is important to note that if you have multiple grandchildren, you would need to petition for guardianship separately for each child. Guardianship may be temporary, as well, especially if the children's parents are able to resume their roles.
Adopting your grandchildren
The most permanent solution, and the one that grants you the most rights, is adoption. Grandparent adoption works like any type of private or independent adoption. If the parents of the child are still alive, they will need to terminate their parental rights in order for you to adopt your grandchildren.
What about kinship care?
Maryland does recognize two forms of "kinship care" for grandparents who are raising their grandchildren. Per the Maryland Department of Human Services, they are:
"Kinship Care (formal) refers when a child comes to the attention of a local department of social service and the department then places a child with the relative caregiver. The relative maintains custody of the child by providing 24-hour care, 7 days per week to the child.
Informal kinship care means a living arrangement in which a relative of a child, who is not in the care, custody, or guardianship of the local department of social services, provides for the care and custody of the child due to a serious family hardship. Legal custody is not required."
Note that in formal kinship care, the department of social services has placed the child in the care of the grandparents. If grandparents become kinship caretakers, they can apply for benefits and programs on behalf of their grandchildren, which will allow them to make important decisions regarding healthcare and education.
No matter how you choose to proceed, the court is going to look at what is in the best interests of your grandchildren. In some cases, the court may appoint an attorney on behalf of the children, especially if the child has suffered from abuse, neglect, or abandonment in the past. This is another example of how McCabe Russell, PA is prepared to help. Both Heather McCabe and Emily Russell are certified Best Interest attorneys who understand what the role of your grandchildren's attorney would be. They have years of experience handling complex family adoption and custody concerns. No matter what your situation is, our firm can help guide you down the right path for you and your grandchildren.
Protecting and supporting a family can be challenging; choosing the right attorney for your needs shouldn't be. At McCabe Russell, PA, we help grandparents find the tools and resources they need to be successful. Please call us 443-917-3347 or complete our contact form. We maintain offices in Fulton, Bethesda, Rockville, and Columbia.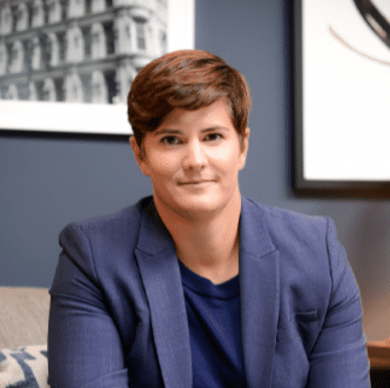 Emily has earned the well-deserved reputation among her colleagues for her willingness to successfully take on some of the most difficult divorce and custody cases throughout the state. Without a doubt, Emily is the trial attorney you want seated on your side of the courtroom.
Find out more about Emily Russell